After Publishing: Links, API Key, and Latest Donations
Once all of your schedules, rewards, and milestones are set and you publish your campaign, the page is now live for everyone to see! But there are some final bits of information that can be critical to the success of your campaign that is only available after you hit the publish button.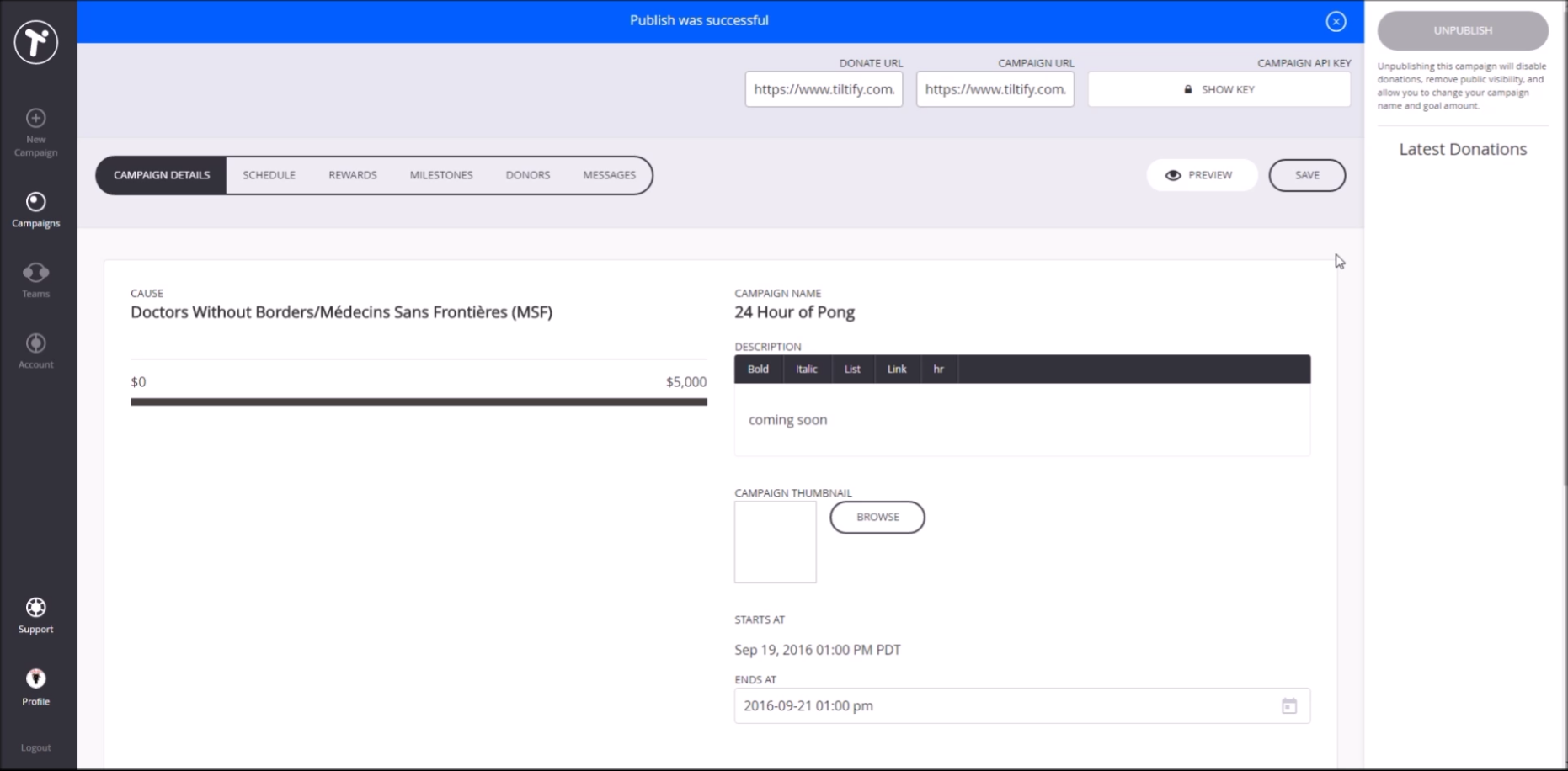 Campaign and Donate URL (Top right-hand corner): All of the hard work you have put in has to direct somewhere, right? The campaign URL is the link you can provide on Social Media in order to direct viewers to the campaign page - this page is where they can see the livestream/content, the schedule, donation bar complete with milestone goals, the rewards, and any of the offline information prior to the start of your event. The donate URL is the direct link to the donation page, which is moreso ideal for information sections or descriptions on your livestream channel so viewers can go directly to the page to input their amount and information to send their charitable donation along.
The API Key (Top right-hand corner)
is essential for any 3rd party software or integrations you might be considering to use with your campaign - such as pop-up notifications/donation alerts. Services such as Streamlabs or Streamjar have integrations with Tiltify's donation system to provide these pop-up notifications - but you will need this API key in order to enable them. If you have your own resources/coders that would like to customize your campaign, this is the API key they'll need to do so - but keep in mind that this key is only available
after your campaign is published
.
After publishing the campaign, your checklist of things to do on the right-hand side should have transformed into a Latest Donations section. This list will update in real time whenever a donation is made to your campaign and will include particular information as well (such as the amount and reward they redeemed, if applicable). That way, you can keep this page open at all times and read the donations as they come through!